Four "co-eds" from a fictional university in the midwest head to Ft. Lauderdale for spring break (which is still called spring vacation in 1960).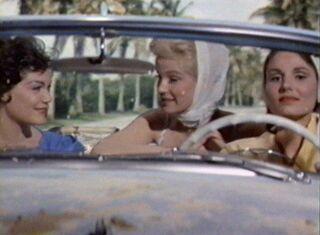 Apparently a wild spring break time in 1960 meant crowded beaches, public drunkenness, long discussions about sex while fending off the advances of young men, and limbo.
The four girls rent a hotel room and set about finding boys - all except the one who seems to be named Merritt - although that name seems preposterous - who is brainy and wants to study. But of course she ends up meeting someone, it's a silly teen beach movie!
The girls have the cutest outfits, the cutest lines...
MERRITT: Okay, what happened to you?
MELANIE: I've been dining, I've been dancing, I've been drinking! Shh!
MERRITT: (to Tuggle) Put on some coffee, I'll get her things off.
MELANIE: Mair I've been drinking grasshoppers! Mair have you ever tasted a grasshopper?
MERRITT: Not intentionally, no.
MELANIE: No, Mair no, not a grasshopper that hops, Mair, a grasshopper in a glass that's green!
TUGGLE: You'll be green, too, in the morning.
The upbeat story takes a dark turn towards the end that left me kind of green, myself. I started to give it three stars but I think that having date rape be part of a beach movie - with the message that you'll be ruined for life if you don't stay a virgin till you get a ring - is a little harsh, so I'm deducting a star.
Still, it's an entertaining look at what life might have looked like on the cusp of the sexual revolution when good girls were still supposed to be desperately trying to hold on to old-fashioned values against the turning tide and the evening's entertainment might include a live girl in a fish tank. How's a good girl to compete with a soaking wet dime-store version of Marilyn Munroe?
Two stars - might be persuaded to watch again...