My favorite Tracy/Hepburn and it wasn't included in my Tracy/Hepburn DVD box set and Tivo deleted before I had a chance to watch. It just came on again!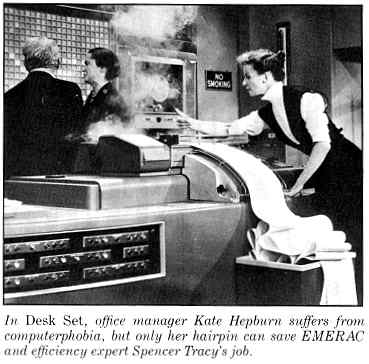 An efficiency expert introduces a computer into the research department of a TV network causing the employees to panic about being replaced by a machine. Antics ensue. Antics which bring KH and ST together.
This must have been colorized, because there are some crazy colors. That lime green sweater! Hepburn looks GORGEOUS. She is in her prime.
I didn't realize that Nora Ephron's parents were screenwriters. They wrote Carousel and Desk Set and Take Her, She's Mine! I suppose Nora followed in their footsteps by writing one movie that can't be improved upon (When Harry Met Sally, of course) and several that I can't stand to watch (You've Got Mail, Sleepless in Seattle). They had three daughters. Amy seems to have written only one screenplay, but Delia keeps trying. She's responsible for that awful John Travolta Nightmare "Michael" where he plays a real life angel and Mixed Nuts! She should be banned from writing.
We were about to watch "Kiss Them for Me" when Kim changed her mind and said she didn't want to see a war movie so I happened to notice Helen Turpin is the hair stylist for both films. Make a note - is the hair any good? I'll let you know!
Will watch again.
Three stars.
Would be four but I don't personally find ST at all attractive so it's downgraded. Sorry.